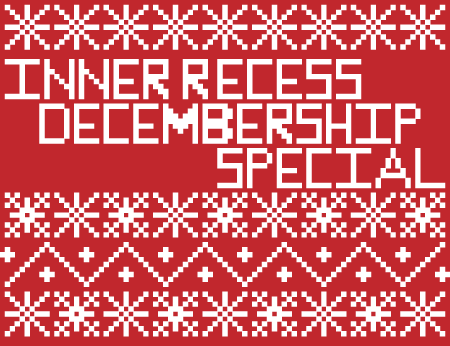 Jack: Hey, Suzy, what are you getting Joe for the Holidays this year?
Suzy: Oh, I don't know, I was thinking of getting him a lamp and a set of decoupage coasters.
Jack: Cool. Do you mind going dutchie on the coasters?
Suzy: Not at all.
DON'T BE LIKE SUZY AND JACK!!!!!!
[divider_line]
Decembership Holiday Special
Inner Recess is offering a discounted membership rate of $100 when purchased as a gift (that's like $50 off the regular price). If you are beating your drums with your head trying to figure out what to get your bandmates, grab your wallet, head over to Inner Recess, and buy them a year of discounted rates. This only lasts for the month of December, so make sure to buy it now. To sweeten the deal, we are offering free high-fives with every purchase.