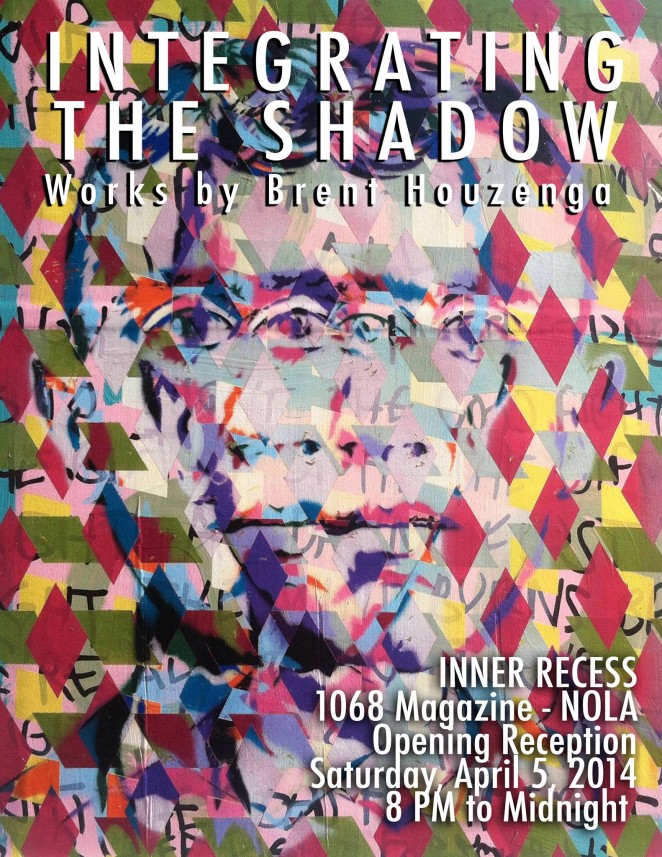 Brent Houzenga, a New Orleans based painter, is excited to unveil a collection of new work "Integrating The Shadow" at Inner Recess – 1068 Magazine Street on April 5, 2014 from 8 PM to midnight.
With Innovative cocktails provided by
Christine Jeanine Nielson of The Lucky Rooster
Music by: Sirens – Christin Bradford
Records spun by the Great Tommy LeBlanc!
Houzenga's story as a painter starts with an asteroid that landed at his feet – A red velvet book full of pictures from the 1890's which he found in someones trash while out for a jog in 2006. This new body of work builds upon almost a decade of painting and experimentation with spray paint, stencils, tape, and found objects and marks another milestone is Houzenga's creative evolution and career. The show will feature the entire "Integrating The Shadow" series as well as other current works never before seen by the public.
In a simple experiment a number of these paintings were completed using the artists left hand – training a part of the brain that is seldom used and integrating parts of the artists unconscious mind.
Inner Recess Recording Studio
1068 Magazine St.
April 5 – 8 PM to Midnight
Integrating The Shadow will be on display at Inner Recess through the month of April by appointment.
VIP/Press preview – April 5 – 6-8 PM (Please RSVP)
Contact:
Brent Houzenga
brenthouzenga@gmail.com
309-255-1209
www.brenthouzenga.com