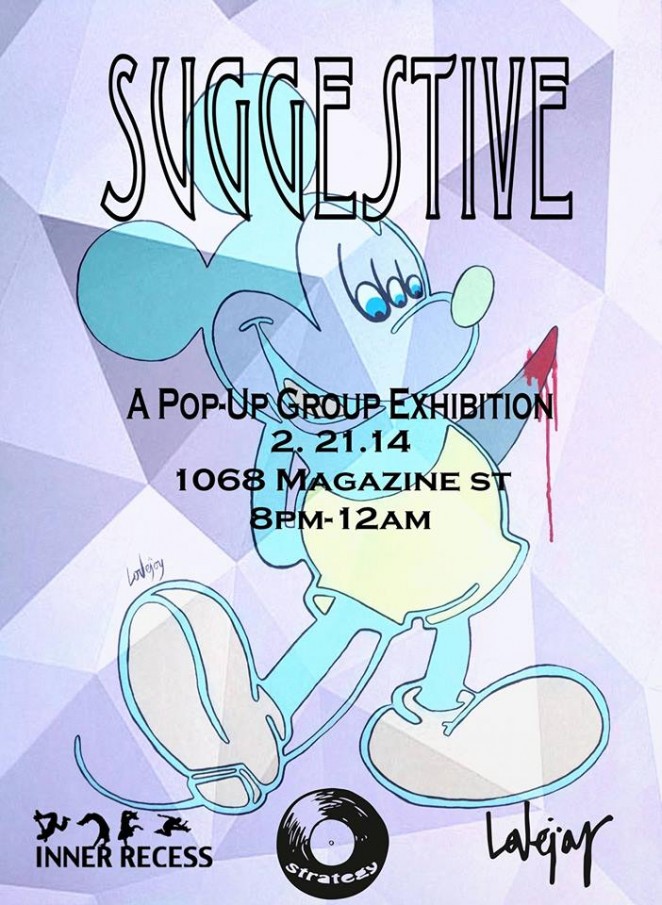 Emily Lovejoy and Inner Recess present "Suggestive", a pop-up group exhibition with over 30 of New Orleans most active up and coming artists. Each artist will display one piece to capture their vision on what the word "suggestive" means to them in a socio-cultural context. The show aims to examine each artist's unique views on the connotations associated with what is suggestive.
Artist Emily LoveJoy will be on-site to host the event, and give fans a glimpse of what's next. Inner Recess, New Orleans Premiere Media Firm, is excited to welcome these artists. Enjoy the sounds of  DJ Strategy, Will Brennan, Brian Hyken & The Wanderlust, Pell, and Shay Briggs. Refreshments will be served.
Live Painting by Patrick Tiek
Exhibiting Artists:
Caleb Henderson, Gabriel Flores, Jacob Edwards, Brent Houzenga, Patrick Tiek, Matthew Landers, Alex Harvie, Danny Pena, Tj Black, Max Cron, Lauren Fraiche, Kasey Randall, Robert Major, Kristof Corvinus, Grace Calandra Emden, Mary DiPasquale Burns, Amy Harvie, Kristen Merritt, Stephen Culotta, Ben Hamburger, Alessandra Hitchcock, Julien Troullier, Tarrah Aroonsakool, Artist Emily Lovejoy.