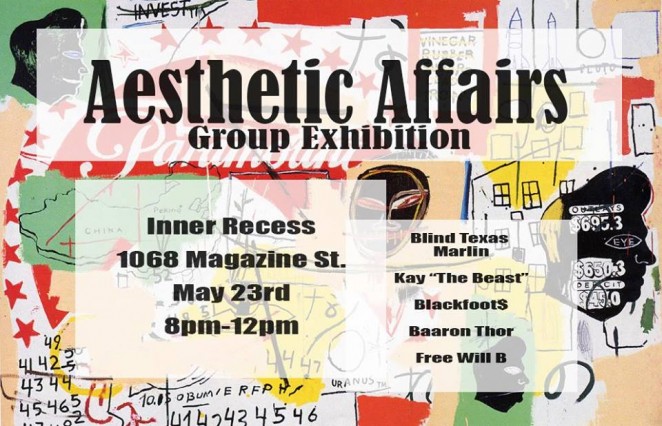 Aesthetic Affairs
On view from May 23rd – June 30th
Exhibition Opening Friday May 23rd 8pm-12am
ENTERTAINMENT:
Free Will B
Blind Texas Marlin
Kaye "The Beast"
Blackfoot$
Baron Amato
Emily Lovejoy and Inner Recess present rare collaborative works by New Orleans and Baton Rouge based artists, entitled Aesthetic Affairs, on May 23rd — 8pm 'til midnight. After realizing how much other artists influence her work every day, Lovejoy decided to explore the notion further by pairing artists that may not otherwise collaborate.
Her idea is that the artists involved will draw on one another's individual outlooks and techniques to produce art that are much more than ephemeral in nature. Each pair was chosen based on various elements, including style, theme, and compatibility. This exercise allows the artists to bounce ideas off of each other's artistic backgrounds to spawn fresh attitudes in their art. With each artist having their own unique style, her hope is that the viewer will be able to pick out which artist did what in each piece. All of the art on display will be created specifically for Aesthetic Affairs and will tell their own unique stories.
Lovejoy researched each of the following artists thoroughly and paired them based on personality and medium, thus optimizing each team's potential for artistic harmony.
ARTISTS:
Jack Niven x Alex Podesta
Bonnie Maygarden x Brent Houzenga
Patrick Tiek x Marc Fresh x Gabriel Saint
Lindsey Rae Boyer x Kenzie Miller
Tarrah Aroonsakool x Jacob Edwards
Jonathan Palmisano x Julien Troullier
Lauren Fraiche x Danny Pena
Caleb Henderson x Dan Tague
Emily Lovejoy x Cameron Eustis x Max Cron
Bayou Frank x Justin Olivier
Ceaux x Kristen Downing x Bryan Brown
For more info, contact Emily Lovejoy or Inner Recess.